Sockets for ICs, Transistors

Sockets for ICs, Transistors

IC Sockets fall into two distinct categories: Sockets used in equipment production and sockets used in semiconductor test, burn-in emulation, and bread-boarding.
As with many other connector families, trends in IC socketing include lower profiles, higher density, and increased mechanical life, particularly in test sockets.
(1).
CPU/Processor Socket
(2).
DIP Sockets
(3).
Interposers&Adapters
(4).
Memory Modules
(5).
PLCC Sockets
(6).
Test Sockets
(1).
CPU/Processor Socket
(2).DIP/SIP Sockets
DIP Sockets can provide a reliable connection between integrated circuit devices and printed circuit boards.
Available from 1 to 48 contacts,our DIP sockets provide a reliable connection between integrated circuit devices and PCBs.

DIP Socket Family
1. Open Frame Turned Pin (Precision machined or stamped Contacts) 2.54mm Pitch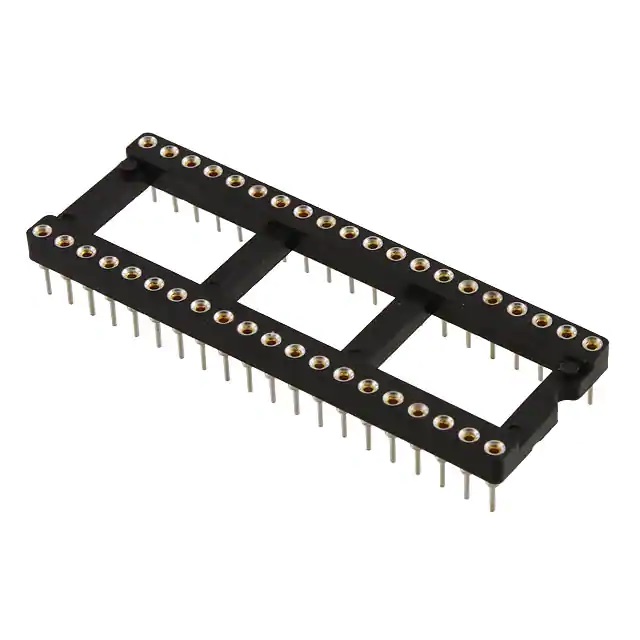 Specification技术参数
Electrical电气特性
Current Rating额定电流: 1A
Withstand Voltage耐压值: 1000VAC for one minute
Contact Resistance 接触电阻: 10mohm MAX
Insulation

Resistance

绝缘电阻: 1000mohm MIN
Operating Temperature 工作温度:

Golde -55

°

C~125

°

C Tin

-40

°

C~105

°

C



Physical物流特性:
Insulator(塑料本体): PBT,Black
Flammability Rating(防火等级): UL 94V-0
Sleeve (套筒): Brass
Contacts(接触件): Beryllium Copper
Mating Pin (配合圆针):

⌀

0.40 to

⌀

0.56mm
Insertion Force (插入力): 2N typ (在用

⌀

0.43mm钢针的情况下)
Withdrawal Force (拉出力): 1N typ

(在用

⌀

0.43mm

钢针的情况下)
Mechanical Life (机械寿命): 100 cycles min

Ordering Information:
Series No.系列号: 2.54OFTP
Poles 位数: 4~64 Pin
Pitch 脚距: 0.1" (2.54mm)

;



Row Spacing (Line width)行距: 0.3"(7.62mm); 0.4" (10.16mm); 0.6"(15.24mm); 0.9"(22.86mm)
Contact Plating: S=Selective Gold (半金); G=Gold Flash(全金);

2

. Open Frame Shrink Turned Pin (Precision machined or stamped Contacts) 1.778

mm Pitch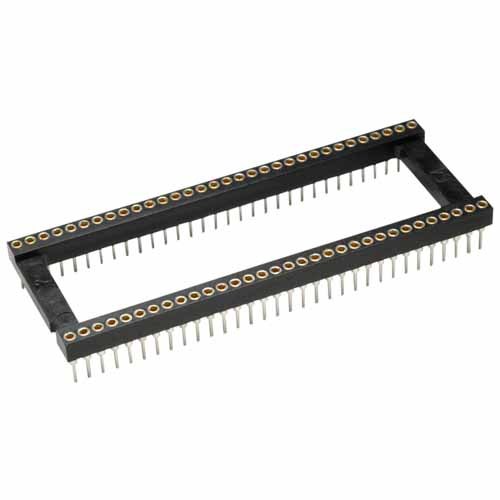 Specification技术参数
Electrical电气特性
Current Rating额定电流: 1A
Withstand Voltage耐压值: 1000VAC for one minute
Contact Resistance 接触电阻: 10mohm MAX
Insulation

Resistance

绝缘电阻: 1000mohm MIN
Operating Temperature 工作温度:

Golde -55

°

C~125

°

C Tin

-40

°

C~105

°

C



Physical物流特性:
Insulator(塑料本体): PBT,Black
Flammability Rating(防火等级): UL 94V-0
Sleeve (套筒): Brass
Contacts(接触件): Beryllium Copper
Mating Pin (配合圆针):

⌀

0.40 to

⌀

0.56mm
Insertion Force (插入力): 2N typ (在用

⌀

0.46mm钢针的情况下)
Withdrawal Force (拉出力): 1N typ

(在用

⌀

0.46mm

钢针的情况下)
Mechanical Life (机械寿命): 100 cycles min

Ordering Information:
Series No.系列号: 2.54OFSTP
Poles 位数: 4~64 Pin
Pitch 脚距:

0.07"(1.778mm)


Row Spacing (Line width)行距: 0.4" (10.16mm); 0.6"(15.24mm); 0.75"(19.05mm)
Contact Plating: S=Selective Gold (半金); G=Gold Flash(全金);


3. Open Frame Dual Leaf Pin (

Dual Leaf

Contacts) 2.54mm Pitch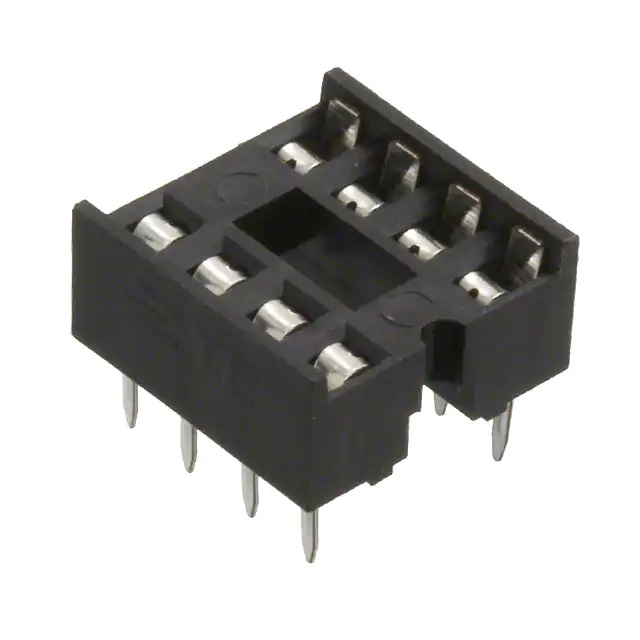 Specification技术参数
Electrical电气特性
Current Rating额定电流: 1A
Withstand Voltage耐压值: 1000VAC for one minute
Contact Resistance 接触电阻: 20mohm MAX
Insulation

Resistance

绝缘电阻: 1000mohm MIN
Operating Temperature 工作温度: -40

°

C~105

°

C

Physical物流特性:
Insulator(塑料本体): Glass filled Polyester,Black
Flammability Rating(防火等级): UL 94V-0
Contacts(接触件): Phosphor Bronze
Contacts plating(接触件电镀): Tin

Ordering Information:
Series No.系列号: 2.54OFDL
Poles 位数: 4~48 Pin
Pitch 脚距: 0.1" (2.54mm);
Row Spacing (Line width)行距: 0.3"(7.62mm); 0.6"(15.24mm);

0.9"(22.86mm)



4
. Open Frame Shrink Dual Leaf Pin (

Dual Leaf

Contacts) 1.778mm Pitch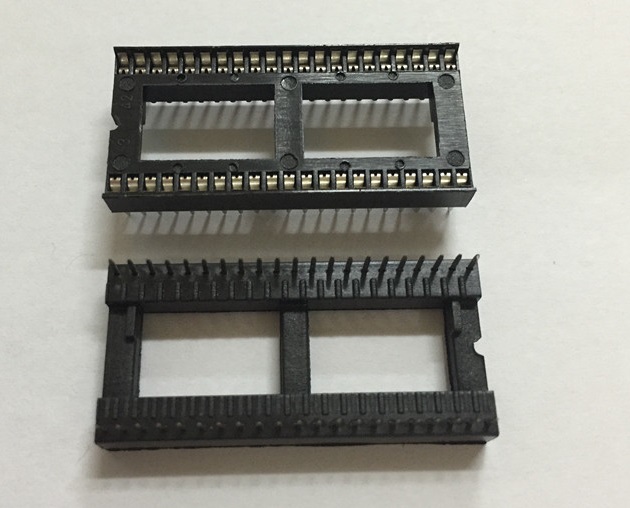 Specification技术参数
Electrical电气特性
Current Rating额定电流: 1A
Withstand Voltage耐压值: 1000VAC for one minute
Contact Resistance 接触电阻: 20mohm MAX
Insulation

Resistance

绝缘电阻: 1000mohm MIN
Operating Temperature 工作温度: -40

°

C~105

°

C

Physical物流特性:
Insulator(塑料本体): Glass filled Polyester,Black
Flammability Rating(防火等级): UL 94V-0
Contacts(接触件): Phosphor Bronze
Contacts plating(接触件电镀): Tin

Ordering Information:
Series No.系列号: 2.54OFSDL
Poles 位数: 4~48 Pin
Pitch 脚距: 0.07"(1.778mm)
Row Spacing (Line width)行距: 0.3"(7.62mm);0.4"(10.16mm) 0.6"(15.24mm);

0.75"(19.05mm)



5.

Open Frame Turned Pin SMT type (Precision machined or stamped Contacts) 2.54

mm Pitch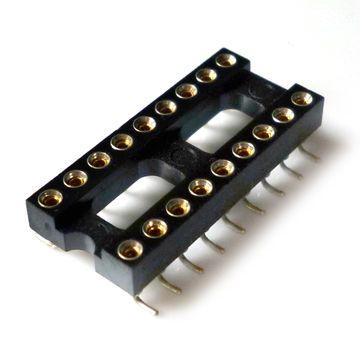 Specification技术参数
Electrical电气特性
Current Rating额定电流: 1A
Withstand Voltage耐压值: 1000VAC for one minute
Contact Resistance 接触电阻: 10mohm MAX
Insulation

Resistance

绝缘电阻: 1000mohm MIN
Operating Temperature 工作温度: Golde -55

°

C~125

°

C Tin

-40

°

C~105

°

C



Physical物流特性:
Insulator(塑料本体): PBT,Black
Flammability Rating(防火等级): UL 94V-0
Sleeve (套筒): Brass
Contacts(接触件): Beryllium Copper
Mating Pin (配合圆针):

⌀

0.40 to

⌀

0.56mm
Insertion Force (插入力): 2N typ (在用

⌀

0.43mm钢针的情况下)
Withdrawal Force (拉出力): 1N typ

(在用

⌀

0.43mm

钢针的情况下)
Mechanical Life (机械寿命): 100 cycles min

Ordering Information:
Series No.系列号: 2.54OFTPS
Poles 位数: 4~64 Pin
Pitch 脚距: 0.1" (2.54mm)

;


Row Spacing (Line width)行距: 0.3"(7.62mm); 0.4" (10.16mm); 0.6"(15.24mm); 0.9"(22.86mm)
Contact Plating: S=Selective Gold (半金); G=Gold Flash(全金);

6.

Open Frame Turned Pin Right Angle type (Precision machined or stamped Contacts) 2.54

mm Pitch

Specification技术参数
Electrical电气特性
Current Rating额定电流: 1A
Withstand Voltage耐压值: 1000VAC for one minute
Contact Resistance 接触电阻: 10mohm MAX
Insulation

Resistance

绝缘电阻: 1000mohm MIN
Operating Temperature 工作温度: Golde -55

°

C~125

°

C Tin

-40

°

C~105

°

C



Physical物流特性:
Insulator(塑料本体): PBT,Black
Flammability Rating(防火等级): UL 94V-0
Sleeve (套筒): Brass
Contacts(接触件): Beryllium Copper
Mating Pin (配合圆针):

⌀

0.40 to

⌀

0.56mm
Insertion Force (插入力): 2N typ (在用

⌀

0.43mm钢针的情况下)
Withdrawal Force (拉出力): 1N typ

(在用

⌀

0.43mm

钢针的情况下)
Mechanical Life (机械寿命): 100 cycles min

Ordering Information:
Series No.系列号: 2.54OFTPR
Poles 位数: 4~64 Pin
Pitch 脚距: 0.1" (2.54mm)

;


Row Spacing (Line width)行距: 0.3"(7.62mm); 0.4" (10.16mm); 0.6"(15.24mm); 0.9"(22.86mm)
Contact Plating: S=Selective Gold (半金); G=Gold Flash(全金);




SIP Socket Family



(3). Interposers&Adapters



(4). Memory Modules



(5). PLCC Sockets




(6). Test Sockets